Premises Liability Attorney
PREMISIS LIABILITY ATTORNEY IN SAVANNAH GA
 Assertive legal representation in premises libility cases
Premises liability is a term that describes the legal context of a slip and fall accident, and encompasses the legal responsibility that a property owner, tenant, and/or manager have to provide a safe environment and reasonable protections against accident or injury.
Slip and fall accidents are responsible for a vast number of injuries in Savannah, Georgia. Accident victims are often left with serious injuries that range from broken bones to concussions and head injuries.
It's important to be aware from the very outset of your case that these types of claims are rarely ever quick and simple. No matter what premises liability attorney you choose to represent you, your attorney may be facing an uphill battle when it comes to proving the property owner's fault – but not always. Zach is an experienced premises liability attorney and would love to discuss the details of your case.
I'm very pleased to recommend Zachary H. Thomas Law to my friends and relatives! I have to mention how efficient and professional in dealing with my case has been with Zach.
Free Premises Liability Case Evaluation
Savannah
Premises Liability
Attorney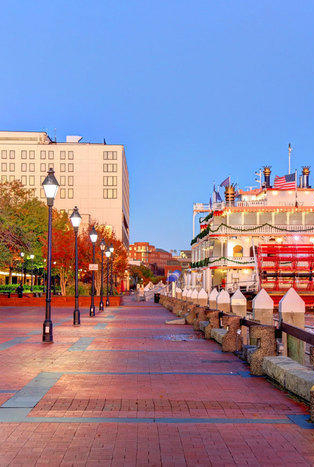 What does premises liability mean?
Property owners and managers should maintain a safe premise for visitors. If hazardous conditions arise, property owners and managers must take reasonable steps to address the problem or notify people of the danger. Parking lots that have inadequate lighting, broken pavement, a spilled liquid not cleaned up promptly, or broken stairs are examples of hazardous conditions that could result in injury if not correctly fixed. When an owner or manager fails to notify a person of the danger or repair the issue timely, and someone gets hurt, this is considered premises liability.
What type of accidents typically fall under premises liability?
The most common premises liability cases are slip and fall accidents. These types of accidents can happen when you slip in a wet entryway or fall over the broken pavement in the parking lot. Premises liability also covers swimming pool accidents, dog bites, and poorly maintained property, such as broken stairs or poor lighting. A premises liability claim may exist if you get hurt on an escalator or in an elevator. A premises liability case may also be possible due to inadequate security if a criminal act harmed you. This might be the case if past criminal acts occurred in the same location. If the property owner should have anticipated that a crime may happen based on history but didn't take steps to prevent it, they could be responsible for negligent security.
If I slipped and fell at a grocery store, what do I need to prove in my premises liability case?
You are an invitee if you have gained the permission of the defendant to be on the premises. Customers and contractors are typical examples of an invitee. To prove that there is a premises liability case, an invitee must demonstrate that the defendant owned, managed, or leased the property where the injury occurred. An invitee must also prove that the defendant was aware of the hazardous condition, or should have reasonably known, as well as their failure to fix it within a reasonable time or notify visitors of its existence. Finally, the invitee must prove that they were injured as a result of the defendant's negligence.
Do I need a lawyer for a premises libility case?
Premises liability claims require specific legal experience since this can be a complex area of the law. When you need to find the best premises liability lawyer for your case, be prepared to ask questions. If the law firm offers a free consultation, find out what their qualifications are. Find out if you will work directly with the attorney, or do you deal with their staff? Does the firm focus on personal injury claims, such as yours? Will they use safety experts when building your case? If your case goes to court, can they defend your rights? When you take the time to ask about a personal injury attorney's experience, reviews, and track record, it can give you an indication as to how they will handle your case.